Baseball Fence Guard - Premium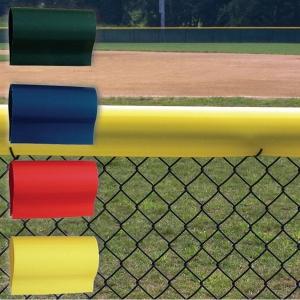 Not sure if Lite and Standard Fence Guards offer enough protection for your players? For sports programs that demand the best protection, there's Premium Fence Guard. The Premium grade fence protector has the thickest walls at 0.10" and was specially engineered for maximum durability and player protection. Similar to the Standard and Lite fence caps, the Premium Fence Guard keeps chain link injuries to a minimum, increases visibility, and adds a nice look to any playground or ball park fence. Don't be fooled by low cost, thin walled look-a-likes: Demand the best!
In addition to thicker walls, Premium Fence Guard also features a professional teardrop shape that's easy to install and is treated to resist ultraviolet radiation from the sun. Fence Guard is maintenance-free and pre-drilled to cut down on install time. Each section of fence protection even comes with a 5-year limited warranty.
Premium Fence Guard Features:
.10" Wall Thickness
Professional teardrop shaped profile
Easy to install with just one person
8' long sections
Exterior grade UV-resistant polyethylene construction
Maintenance free and is designed to be the longest lasting fence cap available
Pre-drilled every 24" and includes ties for securing to the fence
Measures 3" W x 4½" T x 8' L x .10" Wall Thickness
Available in yellow, forest green, red or blue
Sold in cartons of 80'
Priced per 80 ft. carton
5-year limited warranty


Product Specifications:
Color Options: Yellow, Forest Green, Red or Blue
Fits: On Top of Fencing
Material: Polyethylene
Size: 3" W x 4½" T x 8' L x .10" Wall Thickness
Sold As: 80' Carton
Thickness: .10" Wall Thickness