Baseball Fence Poly-Caps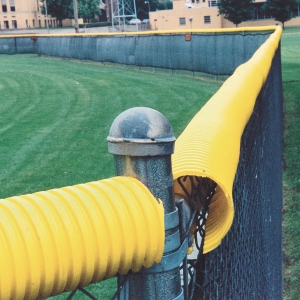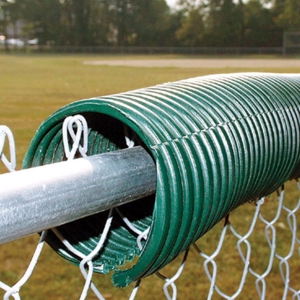 Poly-Cap is a cheap way to add safety and protect athletes, children, and animals from chain link fence injuries. It also increases visibility, and beautifies any track or sporting field.  Poly-Cap is the original fence cap and still the best! Compared to the competition, Poly-Cap is 20% thicker, making it one of the best fence guards around. Consumers should be cautious when considering materials with thinner walls and a more dull and pale appearance. These fence guards are more likely to be damaged by sunlight and therefore become brittle and deteriorate faster. For a durable, long-lasting fence cap, Poly-Cap fence guard offers the best protection around.
Not just for track and field, playground, park or baseball fences, Poly-Cap is ideal for chain link fencing around golf courses and industrial complexes. Poly-Cap is completely recyclable, manufactured from the highest quality plastic, comes in several colors, and includes a limited 2-year warranty.
Please note: Black Poly-Cap is NOT the same as a standard black drain tile. Unlike drain tile, Poly-Cap fence guards contain special UV inhibitors to protect the topper from deterioration in heavy sunlight. However, Poly-Cap in darker colors, such as black and forest green, are a bit more susceptible to sun damage than the original yellow color.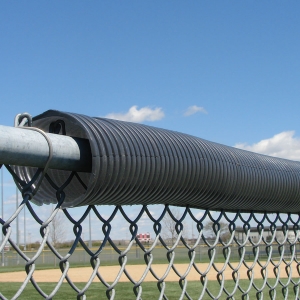 Poly-Cap Fence Guard Features:
Available in the trademarked bright "safety" yellow, black or forest green
Available in 100' or 250' rolls
Manufactured with the thickest wall, creating unequaled durability
Weather-treated and UV protected
4½" diameter polyethylene construction will offer years of protection
It is recommended to secure Poly-Cap with optional matching ties every 3 feet
Limited 2-year warranty
Completely recyclable
Easlity install your Poly-Cap with the installation tool
Product Specifications:
Color: Yellow, Forest Green, Black
Fits: On Top of Fencing
Material: Polyethylene
Size: 4½" Diameter
Sold As: 100' or 250' Rolls
Thickness: 1/16" (1/4" Ridge Depth)